Tree Care
Rootbound Arborists is a Bozeman-based team with formal training in arboriculture, forestry, ecology, and sustainability.  We believe that a well-managed treescape is vitally important in maintaining a safe and healthy environment that benefits individuals and the community at large. 
From proposal to project completion, we are committed to providing attentive and meticulous service, and delivering exceptional results that make a positive impact for years to come.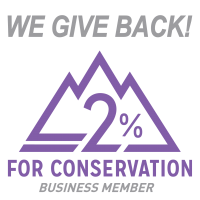 2% for Conservation is a non-profit organization based out of Manhattan, MT. Their main program is to certify businesses that commit to giving at least 1% of their time and 1% of their income to support healthy wildlife populations, vibrant ecosystems, and community volunteerism.