Tree and Shrub Care
At Rootbound Arborists we bring a personalized touch to each project, because we understand the benefits of a well maintained treescape.
Our small Bozeman based team has formal training in arboriculture & forestry, ecology, & sustainability. We use low-impact, efficient techniques to promote resilient & healthy trees and shrubs. We take pride in our reputation for being attentive & meticulous, from proposal to project completion.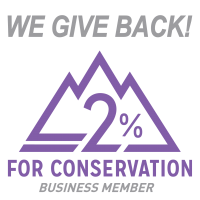 2% for Conservation is a non-profit organization based out of Manhattan, MT. Their main program is to certify businesses that commit to giving at least 1% of their time and 1% of their income to conservation causes that they care about.